Dominion Proposes to Dump Over 150 Million Gallons of Contaminated Waste Water Into Quantico Creek and Potomac River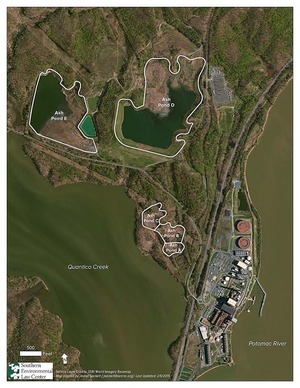 Dominion Virginia Power recently acknowledged it dumped 33 million gallons of untreated coal ash waste water in May 2015 from its Possum Point Power Station into Quantico Creek, which flows into the Potomac River. Dominion then met privately with Virginia DEQ and revised its number to 27.5 million gallons, which is still more contaminated coal ash water than was spilled into the Dan River by Duke Energy in 2014!
Possum Point includes 5 coal ash ponds, four of which are completely unlined and all of which have been leaking contaminants into groundwater and Quantico Creek for over thirty years. Pond D, the largest of the five, has the capacity to hold over a billion gallons of toxic ash waste and water and is only partially lined.  Coal ash, the waste produced from burning coal to generate electricity, contains a range of metals that are toxic at high levels, including lead, arsenic, chromium, selenium, vanadium, and other cancer-causing agents.
Coal ash is typically stored in unlined pits that become "ponds" when stormwater flows into them, causing the metals to continuously "seep" and leach out of the ponds, polluting nearby groundwater, drinking wells and public waterways. Levels of coal ash metals were found at levels far exceeding Virginia limits in groundwater around the Possum Point facility.
Just a few months after the secret discharge, a state board approved a permit that will allow Dominion to discharge over 150 million gallons of waste water from Dominion's coal ash ponds into the Potomac River without using the best available technology to treat contaminated waste water.
Yesterday 35 students risked arrest at DEQ headquarters
demanding answers to the 25.7 million gallon secret discharge.
In North Carolina, the EPA intervened. Duke Energy pled guilty and was found "criminally negligent discharge of pollutants" into North Carolina rivers with coal ash. Duke is required to haul its coal ash waste to lined landfills away from rivers. Virginia is giving Dominion a free pass to "dewater" its coal ash ponds directly into our rivers and then cap the ponds where they will continue to contaminate groundwater and surface water in perpetuity.Potomac Riverkeeper Network has been on the forefront of this battle, investigating Possum Point and the May 2015 toxic discharge as well as challenging the grossly inadequate permits. We have asked the Director of Virginia DEQ David Paylor to explain why he misled the public when he said "no water was discharged into state waters" in June, when we know his staff visited the site in May and discovered the pond drained. We have sent multiple requests to the EPA to investigate. Potomac Riverkeeper Network, Prince William County and the State of Maryland have all filed an appeal of the permit. The public wants answers! Visit website to learn more.
Now, we need YOUR help to protect the Potomac River. It will take one minute of your time. Write to Attorney General Mark Herring and demand that he revoke Dominion's Possum Point coal ash permit and request an EPA investigation of the 27.5 million gallon toxic coal ash water discharge!
Thank you!
Dean Naujoks, Potomac Riverkeeper